Devotions in Kondapak
Hanuman Jayanti Deeksha: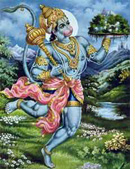 Hanuman Hanuman Jayanthi is celebrated by the Telugu speaking people in a unique way with the 41-day Hanuman Jayanti deeksha. Lord Anjaneya is worshipped for 41 days starting from the Hanuman Jayanti on the full moon day in the Chaitra month. The Hanuman deeksha or diksha (penance) is observed by hundreds of people in Kondapak.
Hanuman Deeksha is a vratam quite similar to one observed during the Sabarimala Mandalam season by Ayyappa devotees. During the 41-day diksha period, Anjaneya devotees conduct special pujas at home and abstain from liquor, meat, smoking, etc. The devotees wear special Hanuman deeksha mala, orange dhoti and walk without footwear during the Vratam period.
The 41-day penance ends with a visit to important pilgrim centers or temples in Andhra Pradesh dedicated to Hanuman or Lord Ram like the Bhadrachalam Rama temple, Vijayawada Kanaka Durga temple or the Kondagattu Hanuman pilgrim center in Karimnagar District.
During the 41 days of deeksha period, free community lunch is hosted for devotees at various Hanuman and Vishnu temples.
Some Hanuman devotees form groups and undertake yatras to the pilgrim centers during the last one week of the deeksha. Many devotees like to complete the diksha period in an important temple dedicated to Hanuman.
Ayyappa Swamy Deeksha: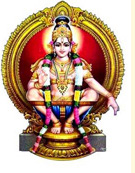 Swamiye Saranam Ayyappa ! Swamiye Saranam Ayyappa ! The loud holy chants break the ear-piercing silence of the forests. The fervor and the zeal is unbeatable. Absolutely consuming. The pilgrims are so involved in their communion with the God that all the hardship, the exhaustion of the long journey and the trek doesn't register. All that matters is beyond the realm of the matter.
The Hindu god Ayyappan is one of southern India's most revered deities. He is worshipped in a number of shrines across south India and in various stages of his life…. as a child, in conjunction with his consorts, at Sabarimala as an ascetic, a celibate meditating in solitude for the benefit of all mankind. Pilgrims trek through the steep hill track in the dense forest only to attain the Sabarimala experience.
Ayyappa Swamy Deeksha It Is that time of the year when those Kondapak staunch devotees take out their black (or orange) attire and rudraksha beads - it is time for Ayyappa devotees, called swamis, to take up the 40-day `deeksha'.
restraining the devotee from wearing any other coloured clothes, eating out, wearing footwear and sleeping on the cot/mattress — which culminates in a visit to the temple of the Lord at Sabarimala, on the banks of river Pampa in Kerala. Many Kondapak devotees are attracted to Ayyappa. Just uttering `Swamiye Saranam Ayyappa' a few times, believe the bhaktas, will rid them of all sins and lead to salvation.